KOJI NFT COMIC IS COMING GET YOUR $KOJI NOW!
KOJI officially launched on the 1st of June 2021 with our public sale and sold out 400 billion KOJI, (133 ETH worth at sale price) in less than 30 seconds! It's been a long and bumpy road since, but we are still here and have been been hard at work, with an earlier re-launched on the BSC network with new smart-contract and hot passive income tokenomics, and our first official Koji NFT poster "First Contact" already released. Now we're gearing up for the full release of the complete KOJI comic series exclusively available to KOJI holders.
stay up to date

with the latest NEWS & UPDATES
So what is this,

koji.earth & $KOJI Token?
koji.earth, initially an ERC20 token, and has now moved to the Binance Smart Chain (BSC) network to help dealing with the increasing gas fees associated with the Ethereum network (read more about the move & reasoning behind it here). KOJI is a community driven token, created to help those in need via mutual aid and donations each transaction, brought to earth by Koji, an alien with the core mission of helping the earth in times of crisis by cooperating with charitable organizations.
In simple terms, KOJI is a hybrid digital token: a DeFi Charity following a deflationary model with redistribution features and regular NFT drops. We aim to cement our position as the leading mutual-aid token by helping the world while offer best possible setting for a great ROI. Deflationary and rewarding by design with 1% KOJI burned + 6% of each transaction converted to BNB from which 40% is redistribution back to all holders including regular NFT drops.
KOJI is a community driven token so make sure you join the Telegram group kojiearth to help steer our direction.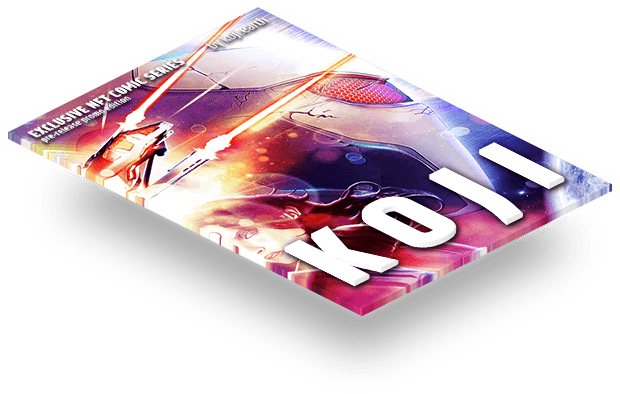 The first ever and one of a kind, complete NFT comics series released exclusively in limited numbers to eligible KOJI holders, illustrated by the world-renowned professional comic & graphic novel company AmCo Studios in London.
But who is

Koji? & what are the NFT Comics?
koji.earth is a unique project, in the sense of being the first token to develop and release a professional illustrated comic series exclusively as NFTs to its holders. "Koji", an alien from planet Antilea, is an original story line, depicting the Koji character who crashes on earth and finds himself in the midst of an unseen battle and ending up a hero. We are proud to partner with AmCo Studios a world renowned illustration agency in London which will ensure our NFTs are way ahead and above anything usually seen and offered in the crypto space.
The comic will drop across a number of months which will complete Edition 1. KOJI holders above the thresholds will be eligible to receive this NFT for free. The main comic are planned to be released early-to-mid 2023 with smaller preview drops leading up to the start of the full release.
More about the comic and the Kojiverse with a full explanation of the NFT tokenomics and more details about the methodology and requirements can be found at here Koji NFT Comic.
Supply, distribution & TAX

koji.earth TOKENOMICS
Crypto is the anomaly in the system, the Neo in the matrix. It exists as the remainder of the universally corrupt economic equation that all of us face. KOJI allows us to work outside of that system, to give back where needed, to give our community something valuable, and to give everyone a symbol of hope in a darkening world.

Nodezy

Lead Developer
What makes $KOJI different from most other crypto projects is that over 80% of the tokens have been distributed via vested airdrop, presale, public sale, or added to liquidity on Uniswap and other exchanges.

The total initial supply of KOJI tokens at launch was 1 Trillion (1,000,000,000,000) and no more will ever be minted as the contract doesn't allow for it. Our new BSC smart contract is live and can be viewed here. Our old audited ETH token contract for reference can be viewed here.

Since launch, total supply have decreased due to the current tax models 1% burn on all transactions, current total supply can be seen below.
0
Due to the deflationary design
31,079,033,742 KOJI, about 3.1% of inital supply have been burned so far!
Please note above supply is not updated live so exact amount might vary slighly, burn address can be found
here
.
For a "live view" of supply, burn, distribution and current TAX model visit our Dahsboard and check out the KOJI Tokenomics page to learn more.
How about the

Future & Plans for KOJI?
$KOJI's main goal is to become the leading charity token, but not only that. We aim to provide high quality NFTs with our "subscription" staking. There are plenty of options in the DeFi space for us to explore, but for now we will focus on the follow short term roadmap:
Website landing page

Whitepaper (pre-launch version)

Charities selection and partnership creation

Pre-sale offering

Deal sign with AmCo Studios to produce Koji Comics for the NFT Drops.
Detailed Tokenomics release

Additonal Artwork & NFT development

Website landing page 2.0

Updated Whitepaper

Public sale offering

Official launch on Uniswap
Official launch on Uniswap

Various Partnerships

At least 1 additional exchange listing

Start of initial marketing & advertising
campaigns
2021Q3 (Jul-Sep)
Full website

Continued efforts to increase outreach through paid promotions & advertising

Additional exchange listings

NFT contract development

Release of the first AmCo NFT

Increase and update the list of charities with most needed ones at that time
2021Q4 (Oct-Dec)
Re-launch on new chain

New smart contract & tokenomics

Staking contract & NFT reward contract

KOJI dApp investment dashboard
2023Dates TBA
Release of the KOJI dApp 2.0

Staking goes live

Start of full comic release (1 drop of 2 pages/week for ~16 weeks)

In dApp NFT Marketplace goes live

Introduction of a KOJI-ecossytem "currency"
2023& BEYOND
Continue full comic weekly NFT drops

Extending the Koji metaverse & ecossytem through side/background stories & characters

Work starts on part 2 & 3 of the first Koji Comics

Online store & official KOJI Merchandise

Expand the NFT ecosystem with dynamic collectibles & game elements
koji.earthROADMAP
Please note that this is a preliminary roadmap to give an overview of our plans and current progress, it's not final or guaranteed and is subject to change without prior notice.