KOJI Token Swap Information & Update
Fri. 10th Dec. 2021
Project updates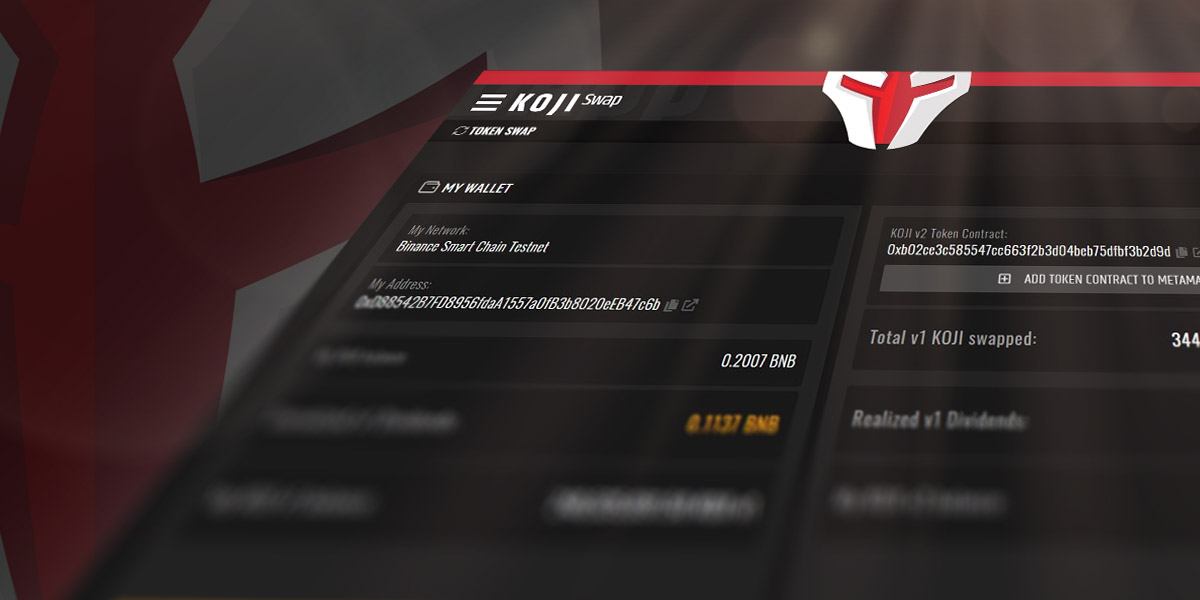 Hello KOJI holders and community, here is a a quick update on the token swap!
We have disabled buying of the v1 KOJI via pancake/flooz until the token swap is ready. This is for the following purposes:
1) People who dumped all their KOJI v1 after the exploit WILL NOT be able to receive their pending dividends. The way our contract is written, someone could potentially buy back 1 (one) KOJI v1 and receive all their pending divs. Disabling buying prevents this.
2) Those forfeit dividends from sellers will be redistributed to our diamond handed holders. Any BNB left over from the swap will be dumped back into the distributor when the time comes.
3) ALL holders swapping v1 to v2 will receive a 1% bonus of v2 KOJI in proportion to their holdings.
4) Holders with pending BNB divs will receive them, AND in addition, receive the equivalent of their pending BNB divs in bonus KOJI v2.
So, for example, if you have .1 BNB pending, you will get .1 BNB AND .1 BNB worth of KOJI v2 pegged at the .000001 market price.
5) The rewards from the swap will only be available for 2 weeks after the swap opens. Afterwards you can still swap your v1 to v2, however there will be no bonuses or pending divs paid out.
Any leftover Unclaimed BNB will be put back to the dividend distributor and given to holders!
The dev team is exempt from these bonuses, and are doing this as a thank you to our community. We are working to have the swap up by the end of this coming weekend, stay tuned!
To sum it up: Total V2 KOJI received = v1 KOJI swapped @ 1:1 ratio + 1% KOJI Bonus + BNB dividend bonus in KOJI + pending v1 BNB dividends