Revealing Koji & our first ever NFT drop: "First Contact"
Mon. 13th Sep. 2021
NFTs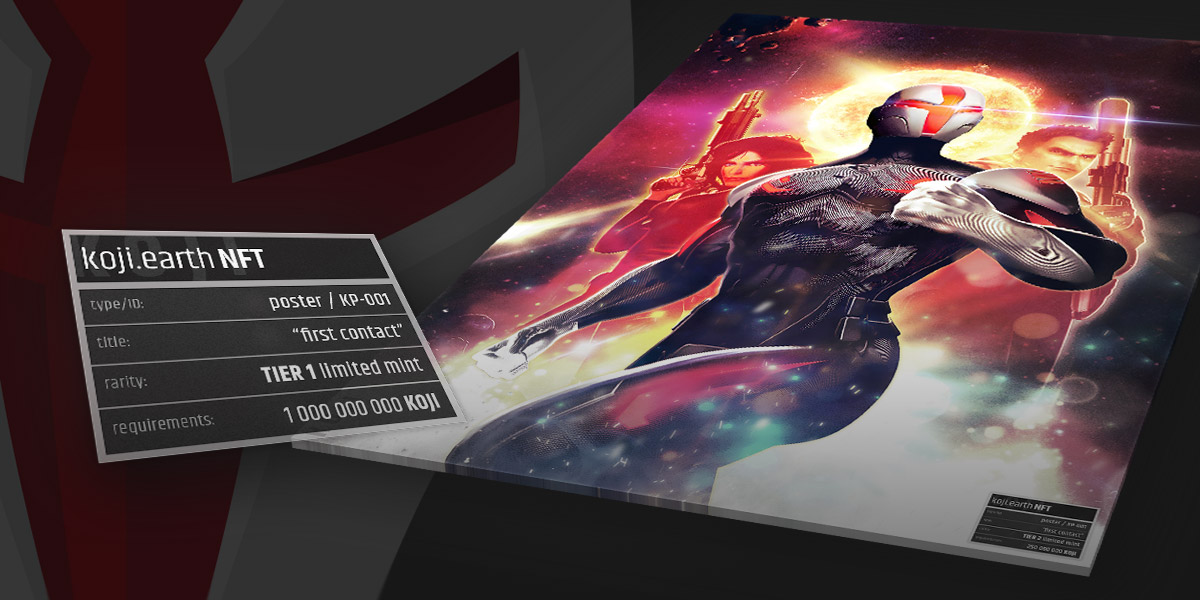 We're proud to introduce the first official KOJI NFT, a poster with character reveal!
We have been hard at work to make sure all the details meet our very high standards and specifications!
How do we claim the NFT?
The process to claim is quite simple, go to https://nft.koji.earth/ and then connect your wallet. The site will then validate your KOJI holdings and you will be entitled the the NFT as per below requirements:
1B (1,000,000,000) KOJI and above will be able to mint the animated poster (Tier 1)
250M (250,000,000) KOJI and above will be eligible to mint the static poster (Tier 2).
Eligible wallets will only be able to mint 1 NFT per wallet, so be certain you have the appropriate KOJI balance in your wallet before you mint!
Please note we've taken the decision to mint the NFT's on the Binance Smart Chain (BSC) please read more about that below. But you use same wallet and same address as your ETH KOJI address.
Steps to Mint
Go to https://nft.koji.earth/ and connect your wallet (same as your KOJI holdings)
Verify your KOJI amount on the ETH network
Use button to automatically switch to the BSC network
If you don't have BNB to cover the minting fees we will airdrop you for free, you can request airdrop through the minting website.
Mint your NFT
The process is quite straightforward but we will release a more detailed guide with more information soon, as well as be available in our Telegram group to answer any questions.
Why BSC?
Recently we have seen the ETH network gas fees skyrocket and we do not believe it's fair on our community to pay $100-$200+ per NFT Mint, which is supposed to be free and added value to their investments.
BSC fees are considerably lower and in recent times have established themselves as a viable alternative to the ETH network, also in NFT marketplaces. A good example is to review the growth and volumes on Pancake Swap. Do you rather want to have your NFT on the ETH network still? Worry not, we are planning to offer a bridging solution for those that want to move their NFT over.
Does this mean the token will also migrate? Our current decision to use BSC is for the KOJI poster NFT only. But we are actively looking at alternative chains for KOJI moving forward to support the future of the project and secure a viable growth with our NFTs.
How long can I mint the NFT? What's the total mint limit?
The mint window will be open for 2 weeks for any wallet with the eligible KOJI amount. The mint limit is set by the 2 week window.
Do I own the NFT I mint?
Absolutely! You will be the proud owner of the first ever KOJI NFT! We hope you keep this for a long time but you are free to trade them on NFT platforms
Thanks,
KOJI Team