BSC KOJI Airdrop done & New contract is up! Register to receive dividends
Fri. 12th Nov. 2021
Airdrop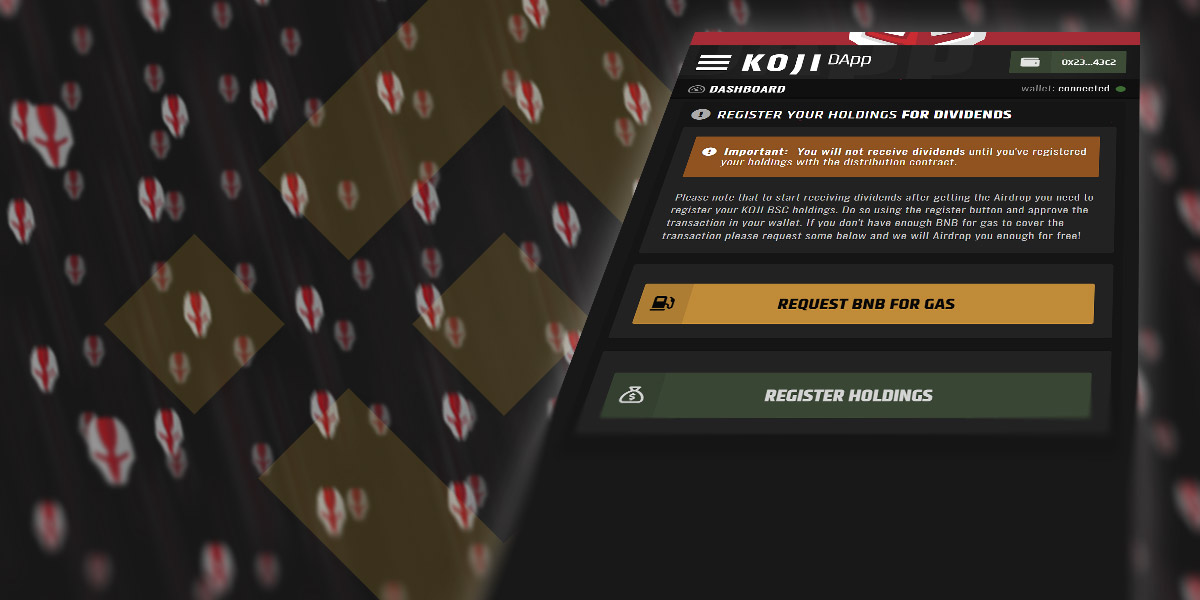 We have a really exciting announcement to share with you all! After a lot of hard work and tireless efforts: The new KOJI contract is ready and everyone should have been airdropped their new KOJI Tokens!
It's been a bit of a bumpy ride, but now it's almost time for our re-launch of KOJI on the BSC Network. Our new contract is done and live and so is our new dApp, our "Dashboard", where you can see your holdings and also withdraw or re-invest your due dividends (holders reward). Read our last blog post for the background and also summary of the new Tokenomics!
New KOJI BSC Contract address:
0x99919114a6e249a9d7862422211d37c41ea29589
How to use and view your holdings in the Dashboard:
Go to the https://app.koji.earth (on mobile, ensure to use browser within your wallet dApp)
Click on the "Connect Wallet" button on the top right
If prompted to switch networks to BSC, accept and follow prompts
Your KOJI balance should show up in the 'My KOJI Balance' section
About the KOJI BSC Aaidrop
All KOJI wallets that held the ETH token have been airdropped equivalent tokens at a 1:1 ratio on BSC. We decided to not airdrop any tokens to a wallet balance below 10K KOJI (equivalent to < $0.01) The KOJI airdrop amount received will be a little less than what's showing on the ETH side, due to redistribution that occurred since the snapshot date and airdrop.
Dividends & Registration:
All Wallets holding above 25M KOJI will be eligible for redistribution (if you hold less, you still get your airdrop).
Click on "Register Tokens" on top of the page & you will need to pay a small fee (<$1) to interact with the contract and register your token
If you don't have BNB in your wallet, don't worry, We will send you some BNB to complete the transaction!
To receive dividends, you need to have 25M KOJI & do one of the following:
Register on the dApp (instructions above)
Transfer 1 KOJI to another wallet (taxable at 7%)
Buy/sell any amount of KOJI once launched on pancake swap
Liquidity & Going live on Pancakswap:
We will add liquidity in Pancakeswap in the next few days, please keep a lookout for an announcement. After this is done, the token is live and tradeable!
Please do not add your own liquidity prior to the project team, as this transaction will fail. This is built into the contract.
We would love to hear your feedback so drop us a note on our telegram channel and let us know!